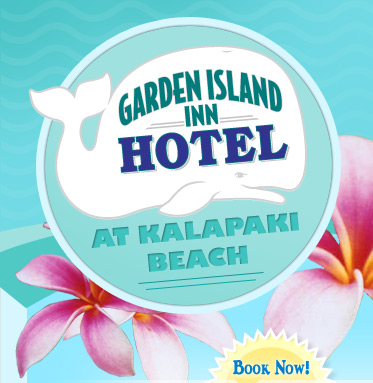 Toll-free: 800 648 0154 Reservations:
808 245 7227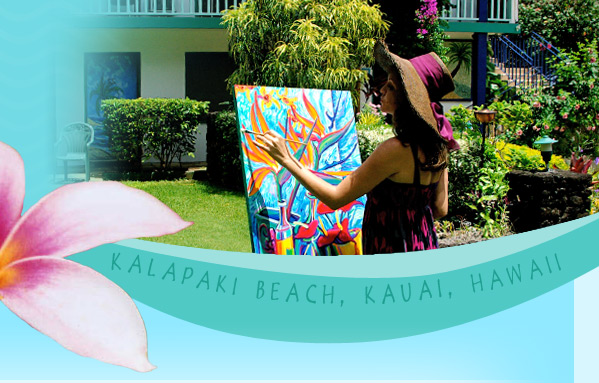 Kauai artist Camile Fontaine at The Garden Island Inn Your affordable vacation accommodation by lovely Kalapaki Beach, with easy access from the Lihue, Kauai airport.
A Colorful Scene Years ago, while launching our boat in the Hanalei river, we spotted the most colorful scene, of a beautiful Southern Belle poised at her easel surrounded by many eye-catching paintings displayed on an old classic Cadillac. We were so taken by this charming sight, that we anchored our boat and went to have a closer look. The bold colors and fun paintings of surfers, old cars, beach cottages and lighthouses would be perfect for the Garden Island Inn. With a little persuasion, Camile and her prince of a cat, "Martin", (who prefers to dine on sushi) moved from Hanalei to the Garden Island Inn.

"Artist At Work" It was in beautiful Nawiliwili that Camile's original island-inspired paintings that are now displayed here at the Garden Island Inn were commissioned. While painting in our gardens she had the "Artist At Work" sign visible, wearing big avant garde hats and fancy dresses while sipping champagne. All this added to the ambience. This colorful character transformed The Garden Island Inn into the unique stunning gallery that it is today.

View the Collection Over the next several years, Camile worked to complete the set of stunning originals and all different scenes in beautiful acrylic-on-canvas paintings and murals on walls and doors. The whimsically designed creations are displayed in all of our hotel rooms, suites and condos. She has a vivid island style that is very popular with our visitors who have fallen in love with our beautiful island and lifestyle, as well as art collectors and color enthusiasts worldwide. There are four large murals around the hotel for everyone to enjoy, depicting mermaids, scenic Hanalei area and the bustling Kalapaki Beach.

Take Home a Special MementoCamile's art pieces that are displayed here at the Garden Island Inn are also for sale, and there are times when visitors commission Camile to create original, one of a kind pieces for them to take home as a special memento of their time here on Kauai. Camile and her paintings are real Island treasures, unique to Kauai, capturing the spirit of aloha for all who visit us at our beautiful Garden Island Inn.

Around the Island Camile has since moved back to quaint little Hanalei, a surfer's paradise, where she is painting masterpieces that are also displayed at the Bambulei Boutique in Wailua, at the Yellow Fish Trading Company in Hanalei and her sister's premiere art gallery in historic Hanapepe, Amy Lauren's Gallery.

Camile Fontaine can be reached at (808) 634-4461.